About Shinagawa Historical Museum
Shinagawa Historical Museum was founded in 1985 to preserve and make full use of local historic material, as well as enhance the local culture and heritage.
In the permanent exhibition, visitors can learn Shinagawa's history from primitive age to the present age, with a special emphasis on how Shinagawa-shuku(Shinagawa Post Station) prospered as the first post station along the Tokaido Road. Moreover, there are special booths for Omori Shell Mounds(a nationally recognized historic spot).
Also, Shoin(a classical Japanese's house style) faces the garden and is used for traditional cultural actibities.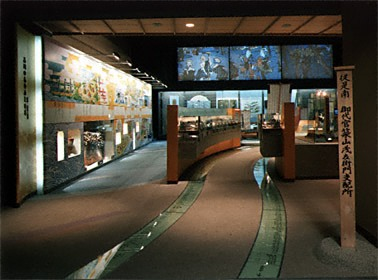 Jump to the details about recommend
Facility
There are Shoin and library in Shinagawa Historical Museum.
Shoin was built in the 1920s and after the war it was mainly used for tea ceremonies.Shoin:The style is a classical Japanese's house style, was restored to the original condition with original architectural materials from the great hall as much as possible. You can use Shoin when you do traditional cultural activities. For example, a tea ceremony, flower arrangement, Haiku gathering and so on.
You can use there for historical study.
Please ask us if you want to use the library.
Also, we sell various goods at the reception area.

Jump to the details about facilities

Jump to the details publication
Museum hours
Museum hours
◎Open  9:00 a.m. to 5:00 p.m. (No admission accepted after 4:30 p.m.)
◎Close Every Monday(Tuesday when Monday is a national holiday)
National Holidays(except when sunday is a national holiday)
※In addition, temporary closure may take place because of replacement of the exhibition or the fumigation of storage rooms.